Stay cool in your own custom fiberglass swimmingpool!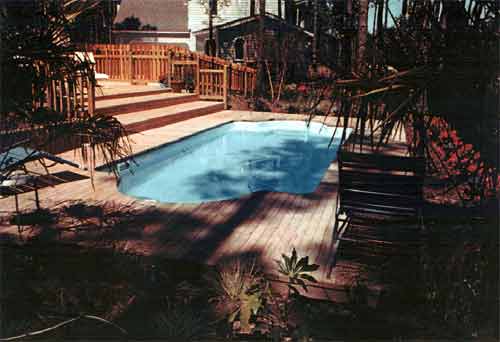 The Trinity is one of Sundown Pools most stylish designs, with long slender lines and gentle curves that lend a feeling of standing in the shadows of the acropolis in ancient Greece. The Trinity's Grecian design makes it not only stylish but also practical for small yards and patio homes. This Sundown Pool has a depth of 3 feet to 5 feet, and is 12 feet wide by 28 feet in length. The Trinity is one of Sundown Pool's all time most popular designs, with plenty of both depth and length to allow the swimmer in the family ample room for exercise. The shallow end not only contains the three steps entering the Trinity, but also a long love seat to simply relax in. The deep end has a swimout to which hydrotherapy jets can be easily installed. Choose any decking imaginable to turn your backyard into a Grecian courtyard with the Trinity from Sundown Pools.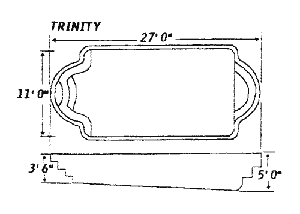 Sundown Pools sells and installs long lasting low maintenance fiberglass swimming pools for less.
CALL (918) 663-2727
Quality fiberglass swimming pools you can afford by Sundown Pools.
---
Sundown Pools, Inc.
4573 S. 102nd East Avenue
Tulsa, OK 74146
Contact Us
CALL (918) 663-2727
---
Copyright © 2000 - 2010 This site developed by AmeriNet Internet Services in conjunction with San Antonio Area Community Web Pages

Web Design and Hosting by