Stay cool in your own custom fiberglass swimmingpool!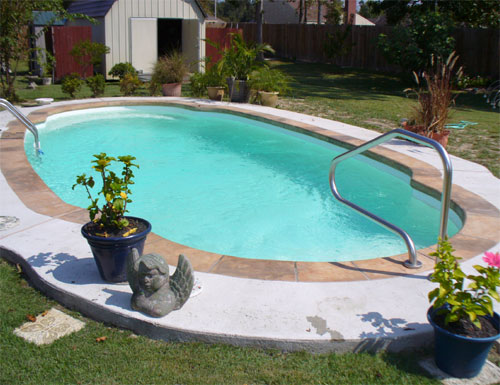 The San Jacinto by Sundown Pools brings an extra dimension of fun and beauty to a backyard. With its 13-foot width and 29-foot length, the San Jacinto packs a lot of swimming area into a limited space. This fun pool ranges in depth from 3½ to 5½ feet. The elegantly shaped entrance of the San Jacinto adds classic lines and styles to any backyard, giving it unmatched beauty. The lounging seat that stretches across the entrance allows the young and old alike to simply relax in the coolness of the San Jacinto. This beautiful Sundown Pool can be perfectly accented with any decking you can imagine. Tile, redwood, or concrete can be shaped to add an extra dimension to this stunning pool.
Sundown Pools sells and installs long lasting low maintenance fiberglass swimming pools for less.
CALL (918) 663-2727
Quality fiberglass swimming pools you can afford by Sundown Pools.
---
Sundown Pools, Inc.
4573 S. 102nd East Avenue
Tulsa, OK 74146
Contact Us
CALL (918) 663-2727
---
Copyright © 2000 - 2010 This site developed by AmeriNet Internet Services in conjunction with San Antonio Area Community Web Pages

Web Design and Hosting by