Stay cool in your own custom fiberglass swimmingpool!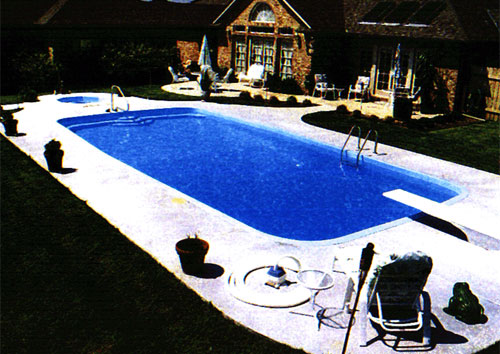 The Rio Grande is annually one of Sundown Pool's most popular size family swimming pools. It has the capacity to easily accommodate about 20 people, making it perfect for those backyard get-togethers. The 35-foot length allows the serious swimmer to get through a workout with ease. The Rio Grande is larger than the national average size for an in ground pool. It ranges in depth from 3½ to 8½ feet, which allows ample depth for diving. At the shallow end of the pool are three steps for easy access, and a love seat that spans the width of the pool. The decking around the Rio Grande is as flexible as your imagination. It can include redwood, concrete, tile, or just about anything you desire shaped to produce a dramatic effect in your yard. With the Rio Grande you know you are getting the maximum in swimming pool fun.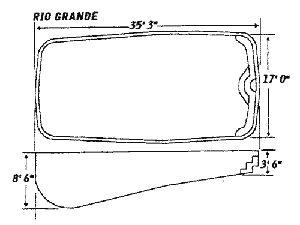 Sundown Pools sells and installs long lasting low maintenance fiberglass swimming pools for less.
CALL (918) 663-2727
Quality fiberglass swimming pools you can afford by Sundown Pools.
---
Sundown Pools, Inc.
4573 S. 102nd East Avenue
Tulsa, OK 74146
Contact Us
CALL (918) 663-2727
---
Copyright © 2000 - 2010 This site developed by AmeriNet Internet Services in conjunction with San Antonio Area Community Web Pages

Web Design and Hosting by