Stay cool in your own custom fiberglass swimmingpool!
A new model now available from Sundown Pools, The Nueces meets the growing demand for pools to fit in smaller backyards. The depth of 3 1/2 to 5 feet also gives the important option of having a "swimming" depth in a confined backyard. The Nueces can easily be installed in zero lot line situations and can also be upgraded into a swimspa that can offer you essentially an unending swim experience. The Nueces is just the right size to recharge your spirit and achieve your health and fitness goals. A truly private, low maintenance fitness center for recreation, aquatic workouts, and the ultimate refuge from stress.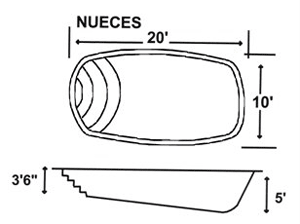 Sundown Pools sells and installs long lasting low maintenance fiberglass swimming pools for less.
CALL (918) 663-2727
Quality fiberglass swimming pools you can afford by Sundown Pools.
---
Sundown Pools, Inc.
4573 S. 102nd East Avenue
Tulsa, OK 74146
Contact Us
CALL (918) 663-2727
---
Copyright © 2000 - 2010 This site developed by AmeriNet Internet Services in conjunction with San Antonio Area Community Web Pages

Web Design and Hosting by