Stay cool in your own custom fiberglass swimmingpool!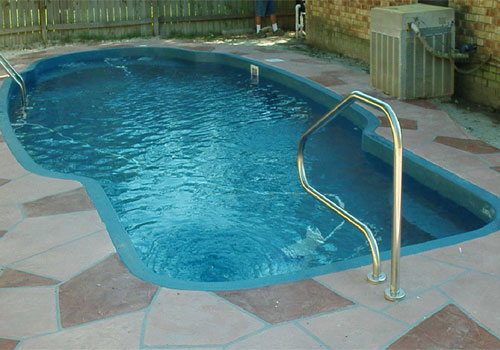 A New Model Now Available Exclusively in this area from Sundown Pools. The Llano is especially designed for those long and narrow backyards so prominent in today's new home construction. With 31 feet of length, the Llano has lots of space available for those water volleyball and basketball games. Yet there is ample seating available on each end for mom, dad, and friends to kick back and relax. Need some rest and relaxation in your life? Don't drive hours to get it, just open your own back door and take the plunge into your own backyard oasis, the Llano by Sundown Pools.
Sundown Pools sells and installs long lasting low maintenance fiberglass swimming pools for less.
CALL (918) 663-2727
Quality fiberglass swimming pools you can afford by Sundown Pools.
---
Sundown Pools, Inc.
4573 S. 102nd East Avenue
Tulsa, OK 74146
Contact Us
CALL (918) 663-2727
---
Copyright © 2000 - 2010 This site developed by AmeriNet Internet Services in conjunction with San Antonio Area Community Web Pages

Web Design and Hosting by