Stay cool in your own custom fiberglass swimmingpool!
The Lazy S has charm of shape that will dignify any home's backyard. A distinct shape that has entry stairs and bench on the pool side wall so there is lots of pool length to roam and frolic in the all non-diving water depth. A convenience ledge runs completely around the deeper end of the Lazy S. The "little ones" will find this feature just right when catching a breath after hours and hours of fun and merriment in the Model Lazy S.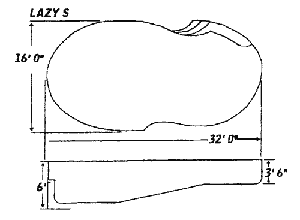 Sundown Pools sells and installs long lasting low maintenance fiberglass swimming pools for less.
CALL (918) 663-2727
Quality fiberglass swimming pools you can afford by Sundown Pools.
---
Sundown Pools, Inc.
4573 S. 102nd East Avenue
Tulsa, OK 74146
Contact Us
CALL (918) 663-2727
---
Copyright © 2000 - 2010 This site developed by AmeriNet Internet Services in conjunction with San Antonio Area Community Web Pages

Web Design and Hosting by