Stay cool in your own custom fiberglass swimmingpool!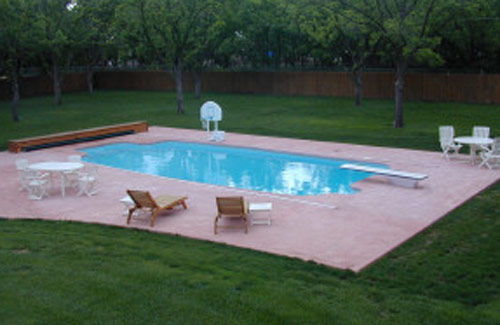 A New Model Available Exclusively in the area from Sundown Pools. The Frio is one of the largest fiberglass pools available in the world. A diving capable pool that is 18 ft. wide and 42 ft. long. As they say in Texas, the Frio is the "Muy Grande" of the fiberglass pool industry. Almost 750 sq. ft. of cool, clear, refreshing water. The Frio not only allows diving, but has a huge shallow area of almost 325 sq. ft. The steps and seats are designed not to interfere with the shallow end activities. Do you think big? Then consider the Frio, they do not make them any bigger.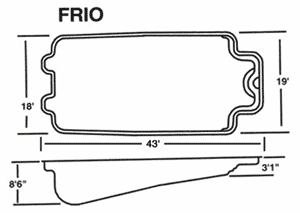 Sundown Pools sells and installs long lasting low maintenance fiberglass swimming pools for less.
CALL (918) 663-2727
Quality fiberglass swimming pools you can afford by Sundown Pools.
---
Sundown Pools, Inc.
4573 S. 102nd East Avenue
Tulsa, OK 74146
Contact Us
CALL (918) 663-2727
---
Copyright © 2000 - 2010 This site developed by AmeriNet Internet Services in conjunction with San Antonio Area Community Web Pages

Web Design and Hosting by