Stay cool in your own custom fiberglass swimmingpool!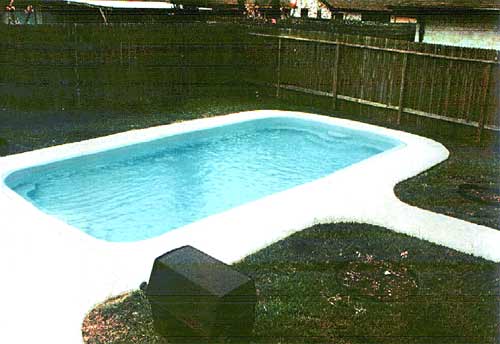 The Colorado by Sundown Pools is the ultimate "Fun" pool. The Colorado's sleek design and almost constant depth make it ideal for those fun water sports like volleyball, basketball, and water polo. The depth is deepest in the middle at 4½ feet, the bottom then slopes gently toward each end to a minimum of 3½ feet. The ends each have long relaxing loveseats to settle into after your water Olympics are concluded. The 13 foot wide and 27 foot long Sundown Pool means great fun and sport for the whole family. The Colorado can also be complimented by any type of decking available, including tile, concrete, or redwood.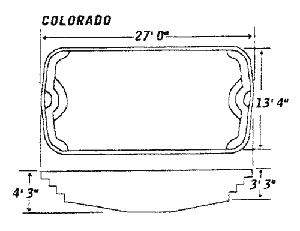 Sundown Pools sells and installs long lasting low maintenance fiberglass swimming pools for less.
CALL (918) 663-2727
Quality fiberglass swimming pools you can afford by Sundown Pools.
---
Sundown Pools, Inc.
4573 S. 102nd East Avenue
Tulsa, OK 74146
Contact Us
CALL (918) 663-2727
---
Copyright © 2000 - 2010 This site developed by AmeriNet Internet Services in conjunction with San Antonio Area Community Web Pages

Web Design and Hosting by