Stay cool in your own custom fiberglass swimmingpool!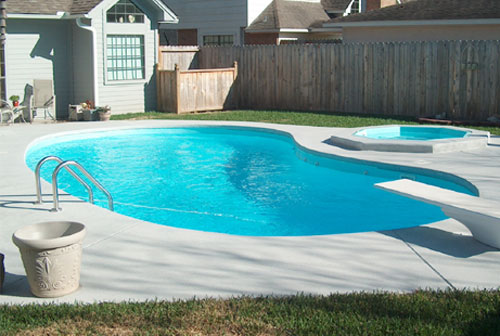 The Sundown Brazos Pool adds elegance to any backyard. The gentle curves bring to mind the beauty and picturesque quality of the fountains of Rome. The curved entrance also affords practicality- with a lounging seat that allows you to simply relax in the refreshing coolness of the Brazos. The Brazos ranges in depth from 3½ to 8½ feet, making it perfect for diving or swimming. The type of decking available for the Brazos is whatever you desire. Redwood, concrete, or tile would beautifully complement this elegant yet practical Sundown Fiberglass Pool. For a similar pool with less depth, see The Pecos.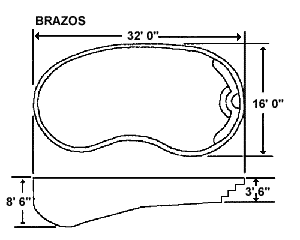 Sundown Pools sells and installs long lasting low maintenance fiberglass swimming pools for less.
CALL (918) 663-2727
Quality fiberglass swimming pools you can afford by Sundown Pools.
---
Sundown Pools, Inc.
4573 S. 102nd East Avenue
Tulsa, OK 74146
Contact Us
CALL (918) 663-2727
---
Copyright © 2000 - 2010 This site developed by AmeriNet Internet Services in conjunction with San Antonio Area Community Web Pages

Web Design and Hosting by